GX-6F PRO Golf Rangefinder
600 yard range ±1
Magnification 6X
Slope and angle
Waterproof
Scan mode
Flag-lock(pulse)
Brand:
AOFAR
Sport Type:
Golf
Material:
Plastic
Weight:
120 Grams
Dimensions(L x W x H):
3.58 x 1.46 x 2.87 inches
Warranty Description:
2 YEARS
Batteries:
1 CR2 batteries required. (included)
Units switch:
meter/yard
Package include:
Rangefinder x 1, Carabiner x 1, Cleaning Cloth x 1, User manual x 1, CarryingCase x 1, Lanyard x 1, CR2 Battery x 1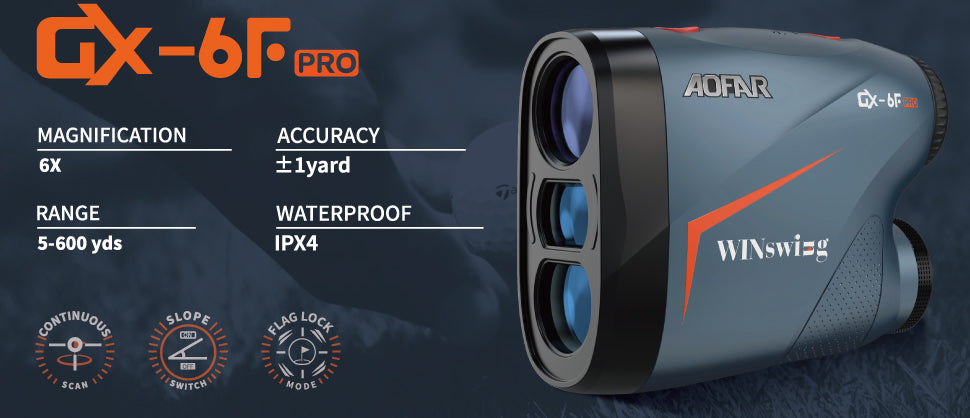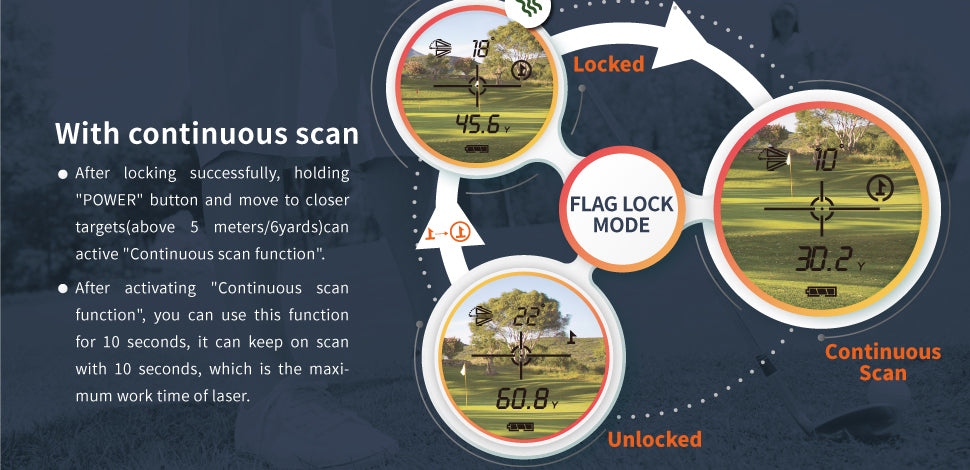 After locking successfully, holding "POWER" button and move to closer targets(above 5 meters/6yards)can active "Continuous scan function".
After activating "Continuous scan function", you can use this function for 10 seconds, it can keep on scan with 10 seconds, which is the maximum work time of laser.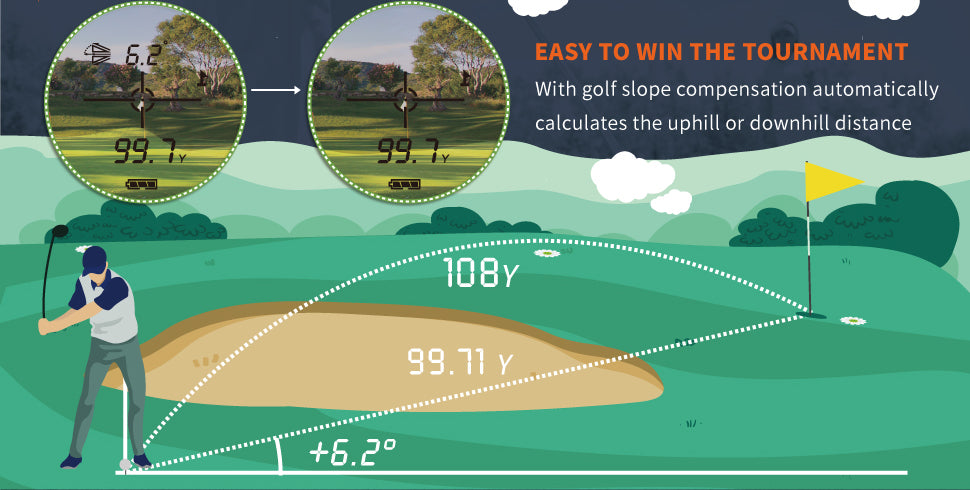 EASY TO WIN THE TOURNAMENT
With golf slope compensation automatically calculates the uphill or downhill distance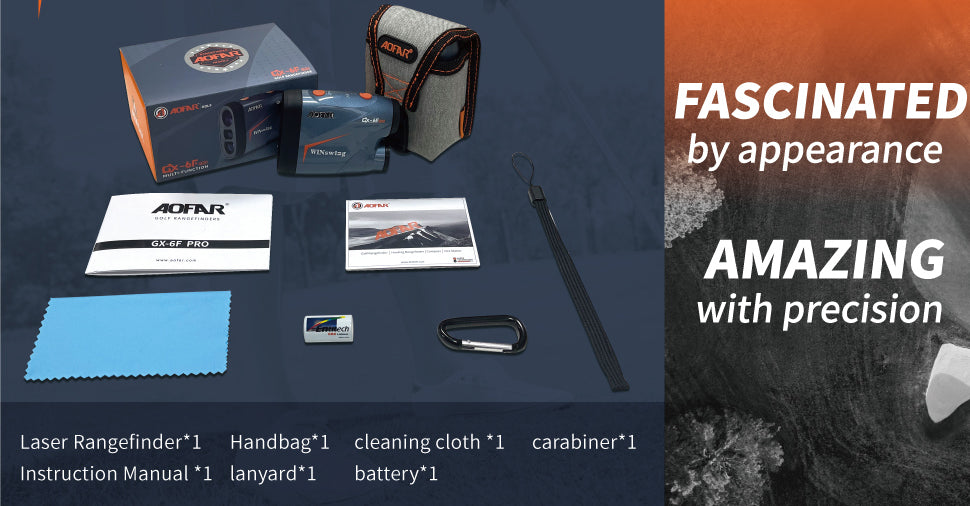 SLOPE SWITCH-FAST AND TRUSTWORTHY:
Slope can be turned on/off in compliance with golf tournament licensing regulations.It takes only 3 seconds to turn on/off the slope (just press and hold the M button for 3 seconds), easy and fast, saving time. Can be used for both golf tournaments and novice teaching. Golf tournaments can be used by simply turning off the slope to participate in the tournament, no need to spend more money on two products.
FLAG LOCK WITH CONTINUOUS SCAN-ACCURATE AND RELIABLE:
When you encounter a flag that is difficult to measure, use the flag lock function.Scan from far to the flag, you will get the distance and feel the vibration while locking. After a successful lock, continue to hold down the ""POWER"" button and move to a closer target (5 meters / 6 yards or more) to activate the ""continuous scan function"".You can only read the reading of target closer than the previous target.This feature saves the time by allowing you to continue scanning to a closer flag for accurate readings after incorrectly locking onto a small object in front of the flag.Save time for you to win the golf tournament.
EQUIPPED WITH NEW AI TECHNOLOGY-ADVANCED AND DURABLE:
Adopt the latest AI technology to lock the flag quickly and read accurately. Easy to turn on/off slope function, Measurement 5-600 yds, 6x magnification, M/Y switch. New design with premium color scheme. Size:93 x 38 x 73 mm , weight: 120g , light and portable, accuracy ±1 yard. Ergonomic body design,comfortable grip.With high cost performance and high quality, advanced and durable.
PACKAGING AND ACCESSORIES-COMPLETE AND CONVENIEN:
Come with carrying case, CR2 battery, portable rope, carabiner, Lens. New design and color scheme, follow the trend of fashion, easy to grip, lightweight and portable, waterproof and dustproof, complete accessories.The best choice for gifts, easy and convenient for men, women, children, beginners and professionals, and it is easy to operate.
TWO-YEAR VIP WARRANTY-WORRY FREE:
In order to improve product performance and bring customers a better buying and using experience, AOFAR has been constantly improving, researching and upgrading after-sales quality. It is our honor to be recognized by our customers. Our products are sold directly by AOFAR manufacturer. AOFAR offers a two-year VIP warranty and lifetime customer support.  
It will take 2-7 business days to arrive.
We guarantee 2 years warranty.
Return or exchange item within 30 days will be effective after receiving the item.