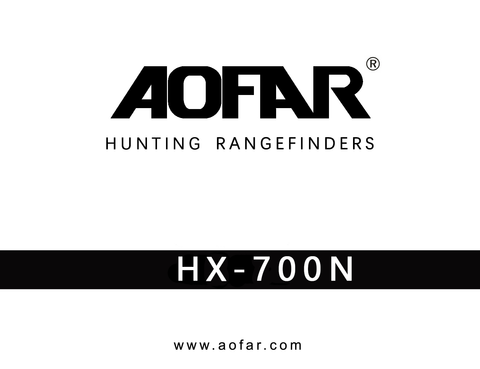 AOFAR BRAND CUSTOMER SERVICE SUPPORT: service@aofar.com
*English manual--------Contact us: service@aofar.com
*Manuel en français -------- Contactez-nous: service@aofar.com
*Deutsches Handbuch -------- Kontaktieren Sie uns: service@aofar.com
*Manuale in italiano -------- Contattaci: service@aofar.com
*Manual en español -------- Contáctenos: service@aofar.com
*Manual em português -------- Contate-nos: service@aofar.com
*Nederlandse handleiding -------- Neem contact met ons op: service@aofar.com
*日本語マニュアル -------- お問い合わせ:service@aofar.com
TABLE OF CONTENTS
1. 

TABLE OF CONTENTS

3

2. 

OPERATION INSTRUCTIONS

4

 

Focus adjustment; Units switch; Range mode; Speed mode

 

 

3. 

PRODUCT SPECIFICATIONS

6

4. 

DESCRIPTION OF THE SCREEN DISPLAY

7

5. 

COMPONENTS NAME

8

6. 

HOW TO WORK AND RANGING ACCURACY

9

7. 

RAEDY TO START (Inserting the battery)

10

8. 

LIST OF ARTICLES

11

9. 

USE SAFETY INSTRUCTIONS

12

10. 1

PRECAUTIONS OF LITHIUM BATTERY

14

11. 

MAINTENANCE OF THE INSTRUMENT

14

12. 

TROUBLE SHOOTING TABLE

15

13. 

CUSTOMER SERVICE/WARRANT

16
2.OPERATION INSTRUCTIONS
Focus adjustment
HX-700N range finder is constructed with an adjustable eyepiece (+/-5 Diopter). People with different visions don't need to wear glasses, they can observe LCD with naked eyes.
Rotating the eyepiece until the reticle and object display to your eye clearly.
Units switch
The HX-700N range finder can be used to measure distances in yard or meter. The unit of measure indicators are located in the lower right portion of the LCD. To select yard and meter,please press"MODE" button  for 2 seconds  to change" Y" (yard) and "M" (meter).
Range mode
1.Look at LCD through the eyepiece, then press Power button and release quickly, you will see the display as right picture. Pressing Power button again to measure.  (The laser rangefinder will auto power-off if no operation within 8 seconds.)
2.Placing the aiming circle (located in the center of view) on a target over than 5 yards away, press Power button and release quickly. The range distance reading will be displayed on LCD.

PRESSING AND RELEASE "M" BUTTON QUICKLY, YOU CAN SWITCH BETWEEN RANGE AND SPEED MODES.
(The" Spd" icon will be displayed on the left)
Speed mode
Pressing "POWER" button and keep target marker on target, you can get the speed of it.

3.PRODUCT SPECIFICATIONS
| | | |
| --- | --- | --- |
| 1. | Model | HX-700N |
| 2. | Measuring range of distance | 5 ~ 700Y |
| 2.  | Weight | 180g |
| 3.  | Battery | CR2-3V  |
| 4.  | Dimensions | 110x75x40mm |
| 5.  | Measuring range of speed | 0.5-100m/s |
| 6.  | Magnification | 6 Times |
| 7.  | Eye piece size | 16mm |
| 8.  | Exit pupil diameter | 3.8mm |
| 9.  | Measurement deviation | ±1Y |
| 10.  | Velocity measurement precision | ±5m/s |
| 11.  | Laser type | Class I |
| 12.  | Operating temperatures | -10℃~50℃ |
4.DESCRIPTION OF THE SCREEN DISPLAY
 

Battery indicator

 

Speed of your target

 

Target marker: Please superimpose the center circle with target object to be measured

 

Measuring distance: Straight-line distance

 

Distance unit display: The distance unit at your option
5.COMPONENTS NAME
① Power /Transmitting Key
② Mode Button
"M"/ "Y" Switching(pressing for 3 seconds to switch) 
③ Rotary Focusing
④ Laser Transmitting Objective
⑤ Laser Receiving Objective
⑥ Sling connection Hole
⑦ Prevent slippery Leather
⑧Battery compartments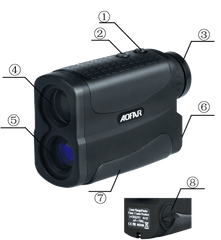 6.HOW TO WORK AND RANGING ACCURACY
The HX-700N range finder emits invisible, eye safe, infrared energy pulses. Sophisticated digital technology instantaneously calculates distances by measuring the time, which it takes for each pulse to travel from the rangefinder to the target and back to rangefinder.
The color, surface smoothness, size and sharpness of target will affect its reflectivity and range.
It is difficult to measure in the following conditions and environments:
Raining or fogging / the target is too small / Low reflectivity of the measured object (black color, complex shape, curved surface, water surface, glass surface, mirror surface. etc.) / Low battery.
7.RAEDY TO START (Inserting the battery)
Display

Description

 

Sufficient power available

 

60%power left.

 

Low battery indicator flash: Replace the battery now!

*Because of the low battery,the data can be displayed, but  may not be accurate.  
Remove the battery cap by rotating the cap counter-clockwise.
Insert a CR2-3V battery.
Put the negative pole of lithium battery into battery compartment first.  
Replace the battery cap.
Note: It is recommended that the battery should be replaced once every 12 months.
Notice: Replace the battery when Low battery indicator shows.
If the " 

 " displays and flash on LCD, which means "low battery".   Due to the low battery,the data can be displayed, but  may not be accurate.  
Install/Change battery  
Open the cap counter-clockwise
The positive pole "+"of the lithiumbattery CR2 should be placed outwards. (look atthe picture)
Tighteningthe battery cap clockwise after installing the battery.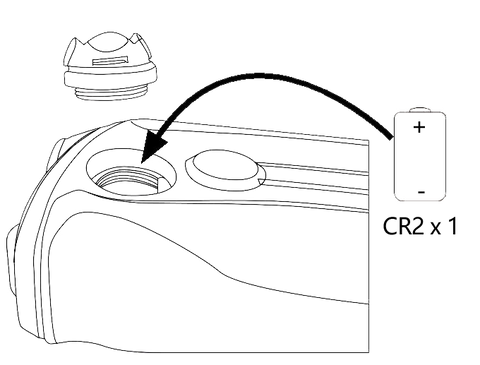 8.LIST OF ARTICLES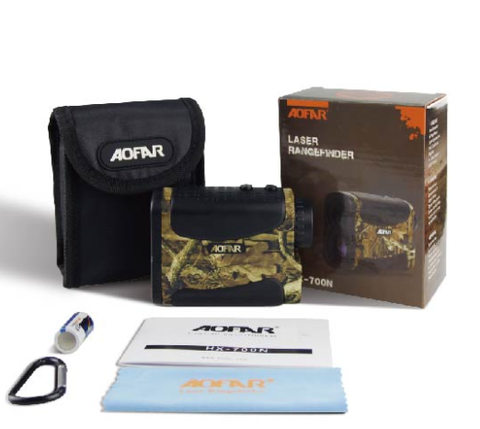 Handbag, lanyard, cleaning cloth, battery,carabiner,laser rangefinder and Instruction manual
9. USE SAFETY INSTRUCTIONS
Preventing your instrument from falling or getting damaged and never tamper it. If there is abnormal noise, please contact customer service department of our company.
The operating temperature for this product is-10 ℃~50 ℃. Please use or keep the instrument within the operating temperature range and avoid using in a sharp temperature change environment.
Please do not keep the product under the sunlight directly, high temperature or low temperature environment for a long time. (g.in trunk of car).
Do not expose and aim at the sunlight.
Do not use or store the product in the environment with strong electromagnetic radiation or magnetic field.
If the product isn't be in use for a long time, please remove the battery and store it in a cool, dry place. It is also recommended to put this product in a dry box.
Do not disassemble, modify or repair the product by yourself, the damage of the instrument and the irradiation of the laser may cause the visual damage and other harm.
Please do not use it in dusty areas in order to avoid failures.
Although the product has waterproof function, please do not get it wet or immersed in water intentionally. When there is moisture around the button, please operate it after wiping it off, and do not use it in water.
Please confirm that the battery cover is closed tight when it be used.
Warning!  
Do not look at the Laser Transmitting Objective Lens④.
Do not measure eyes of others.
It is forbidden to detach this product yourself.
It should be kept out of reach of the children.
Attention! 
It is normal for lens to be wet when the temperature changes suddenly. In this situation, remove the battery and do not use the device until it becomes dry.
Moving from a cold place to a hot room of the product may dew on the appearance and internal parts. To avoid this phenomenon, please put the device in a waterproof plastic bag and take it out after its temperature has gradually increased.
To avoid failures, donot store the product in:
Unventilated and humid places
The car or trunk exposed to the sun
Environment with humidity over 90%
※Please don't preserve or place the lens under the sun!
Its radiation convergence function can harm the LCD
10.PRECAUTIONS OF LITHIUM BATTERY 
To prevent leakage, heat and fire, etc.
Do not disassemble and modify the product by yourself.
Do not throw it into fire or store it in high temperature.
Avoid direct contact with metal objects such as coins or keys (in a pocket or bag).
If skin touch the leaked liquid accidentally, please rinse under cool water immediately. If eyes or mouth touch liquid leaking, do not rub. Rinse under cool water and consult a doctor.
It must be kept out of reach of children.
Observe treatment methods in your native policy when dropping a used lithium battery.
11.MAINTENANCE OF THE INSTRUMENT
Gently wipe the surface of lens with a clean, soft cloth to remove stains which would damage it.
If there are stains on the surface of the lens, which may damage lens. Do not touch the lens with your finger to protect the coating from the appearance.
12. TROUBLE SHOOTING TABLE

  
If LCD can't be turned on:
Pressing Power button again.
Check battery or replace it if necessary.(Determine if there is an insulator blocking the battery power)
If Distance measurement is abnormal:
Please confirm whether the lens have dirt.
Please make sure that the mark circle overlap your target.
It can be turned on, but the data will not be displayed:
Low battery voltage,please change the battery.
Out of measurement rangeor  less than 5 yards.
Change the measurement target
Measurement error:
M/Y is not switched.
Rain and fog and small target will also affect the measurement results.
Battery power runs out quickly:
Low ambient temperature will cause the battery power runs out quickly.
If the battery has not been used for a long time after unpacked, the battery power will run out quickly.
13.CUSTOMER SERVICE/WARRANT
Customer service: 
Website : www.aofar.com
Customer service: service@aofar.com
Facebook: Aofar Us
AOFAR focuses on the research and development of outdoor products especially in range finder and compass, AOFAR has first-class production technology and R&D experts.Nowadays, our products are sold all over the world and very popular. We dedicate to improve customers' outdoor life by rich experience and expertise.
Warranty
The product warranty period is two years from the date of purchase.
Please take a few minutes to register your product at aofar.com/account/register
In the event of a need for service or repair, please contact AOFAR Product Service at: service@aofar.com
For product questions, consult the AOFAR Website at: aofar.comor contact Customer service:service@aofar.com
Our customer service will reply you within 24 hours after receiving your message.