SLOPE SWITCH WITH INDICATOR LIGHT: Save your time in the course. After turning off the slope, the light will flash. Designed for golf tournament.
CONTINUOUS SCAN: High precision readings allows you to enjoy. Click "MODE" button to switch to SCAN mode, then press and hold "POWER" button to scan the target continuously. Scan different objects to measure distance.
FLAG-LOCK WITH VIBRATION: Advanced pin tech with pulse. Press "POWER" button, then scan from far to the flag. When locked, you will feel the product vibrate and the circle will appear outside the flag on the LCD.
GOLF RANG EFINFER: A cost-effective rangefinder worth having. Measuring 5-800 yards with fast reading and high-precision, 7X magnification, accuracy with ±1 yard, click "MODE" to switch m/Y.
VIP WARRANTY AND ACCESSORIES: Worry-free and best gift for golfers. AOFAR provides 2-year warranty and lifetime customer support. Including carrying case, CR2 battery, lanyard, carabiner, cleaning cloth, instruction manual.
Details:
Brand: AOFAR
Sport Type: Golf
Material: Plastic
Weight: 330 Grams / 11.64 ounces
Dimensions(L x W x H):3.78 x 2.76 x 1.34 inches
Warranty Description:2 YEARS
Batteries: 1 CR2 batteries required. (included)
Units switch: meter/yard
Package include: 
Rangefinder x 1, Carabiner x 1, Cleaning Cloth x 1, User manual x 1, CarryingCase x 1, Lanyard x 1, CR2 Battery x 1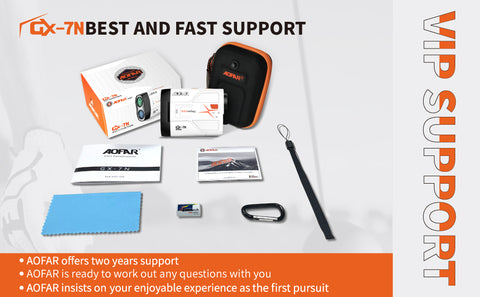 Hello, you can measure the height of the target object.
I hope it helps.
AOFAR GX-7N golf rangefinder uses CR2 battery. In the case of ordinary single point, it can be used about 2500-3000 times. There will be a low battery indicator on the LCD when it needs to be replaced. Don't worry, it will turn off automatically after 8 seconds of no operation, very power saving. AOFAR provides high-quality after-sales service and brings you a better shopping experience.
Because HX-800H is better than HX-1200T in measuring speed and feel.
Sorry, there is no tripod mounting point. Because our products only need to be held in the hand. He has good stability.
Hello, AOFAR products support the switch between meters and yards.
Hi there, The Minimum distance of measurement is 6 yard.
We have 7° diopter, which can be observed with naked eyes.
Your subheading
Your title