HIGH PRECISION FUNCTIONAL RANGEFINDER:Advanced pinsensor technology, 6x magnification, accuracy with ±1 yard.
HUNTING RANGE FINDER:Measurement up to 700 yards. Use range mode can give you amazing experience for hunting even in bad weather day.
TWO MODE FOR ANY CIRCUMSTANCE:For hunting and golf with two mode:Range and Speed. You can easily identify target with continuous scan.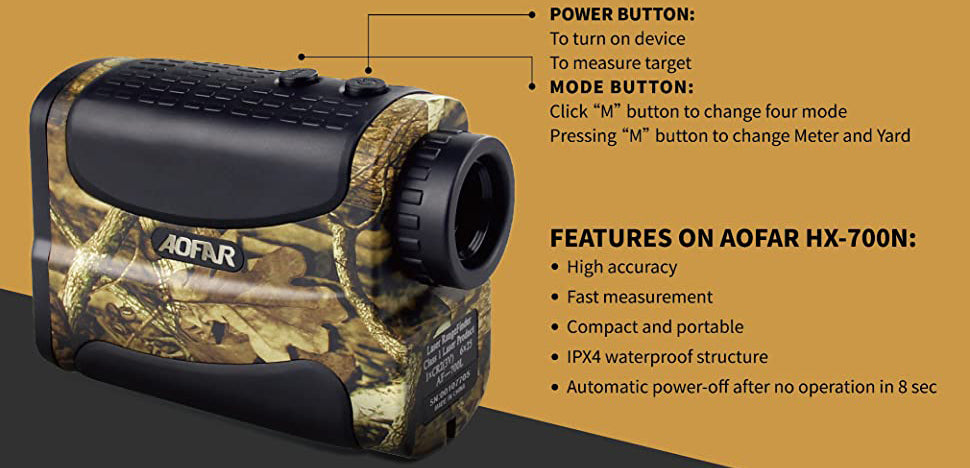 LIGHTWEIGHT AND PORTABLE:Dimension is 110x 75 x 45 mm and weight is 180g. Waterproof and dust resistant with durable feeling. Perfect for carrying while golfing or hunting.
RISK FREE AND FULL ACCESSORIES:AOFAR factory direct selling with TWO year VIP and lifetime customer support. Including carrying pouch, CR2 battery, portable rope, carabiner, cleaning cloth and user manual.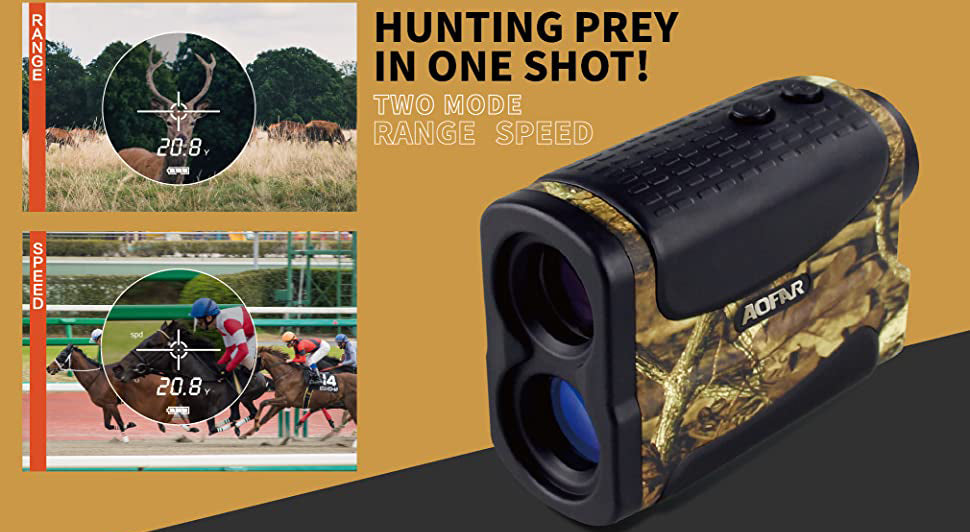 Details:
Brand: AOFAR
Material: Plastic
Weight: 180 Grams
Dimensions(L x W x H):4.33 x 2.95 x 1.77 inches
Batteries: 1 CR2 batteries required. (included)
Package include: Rangefinder x 1, Carabiner x 1, Cleaning Cloth x 1, User manual x 1, CarryingCase x 1, Lanyard x 1, CR2 Battery x 1
Package include:
Rangefinder x 1
Carabiner x 1
Cleaning Cloth x 1
User manual x 1
CarryingCase x 1
Lanyard x 1
CR2 Battery x 1
Range is 5-700 yards. The minimum range is 5 yards.
Yes! Our Generation 1 range finder has four models Range,Speed,Scan and Fog . When you scan flag you should press the on-off button with two seconds
There are some tips for you to use it :
1: Press the model button with two seconds to change yards to meters.
2: Automatic off function for 10 seconds after you have no operation on your range finder to save power.
Worked great in SW Michigan hunting... Temps around 10 degrees not including windchill...
Sorry ,you can buy our product with Angle compensation.
No there was no clicking noise
It's CR2 battery and not rechargeable. It's easy to buy online. Search "CR2 battery" , then will have many product.
It can calculate m/s and km/h. Any need please contact me by my business mailbox: service@aofar.com.
Yes light weight and comfortable to hold and use.
it turns itself off after a certain amount of time without being moved.
Yes it what i use it for works well!
Yes, It can change meter and yards by yourself. Just need to hold the "M" button for two seconds. It will change the units.
This is 700 yards range finder. AOFAR also has 1000 yards range finder on store, which is very popular too. AOFAR also has spacial design device H2 for hunting.